Crisses
Who's Who of The Crisses
how we think we got this way * LegoCrisses
Headmaps
Hart's knowledge of our Derivations
4-17-04 - We have 3d internal landscape pictures now:
4/9/04 - preliminary 3d internal landscape (view of front room which has gotten much more complicated as people remind us of items and furnishings in it! For example, things from Frank's Comix are incorporated, as are things from a map we drew in 1986 when we first figured out we were multiple, stuff from shamanic initiations that now have residence in our system, etc.)
4/2/04 - Gatekeepers & Conduits.
4/2/04 - "Full" people map. Already obsoleted. Dammit.
Last Updated 4/3/04, some 73+ 'names' and counting...I'm about to give up counting. :P
Important System Components/Fragments included in our main headcount
The people that may or may not reside in our head.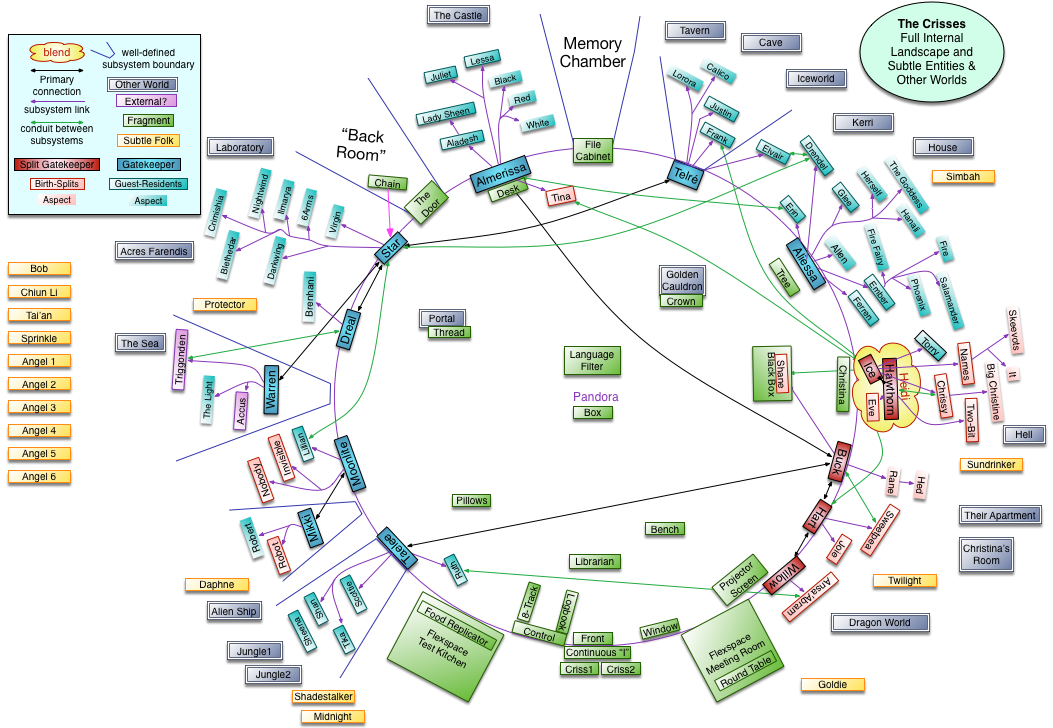 Lately we're working in an internal model of subgroups called "sub-systems" and the gatekeepers of those sub-systems: the people who filter and control the interactions that make it through to those subsystems. People marked with a trailing asterisk * answer to current roll-calls in our head as of the last time we remembered taking a roll call and updating this list. People with trailing pound # symbols have been confirmed to be available, if not always present, such as our Higher Self (Herself) and The Goddess.
Odd bits:
Top level of this outline are gatekeepers of those below them. See above for our latest gatekeeper map.
Unknown Affiliation - We have no idea how to classify these people.
Sheena -- the name popped up and we wrote it down. No idea who she? is.
---
See Also