Books
United Front
United Front
Positive, proactive and collaborative self-help for people with multiple personalities.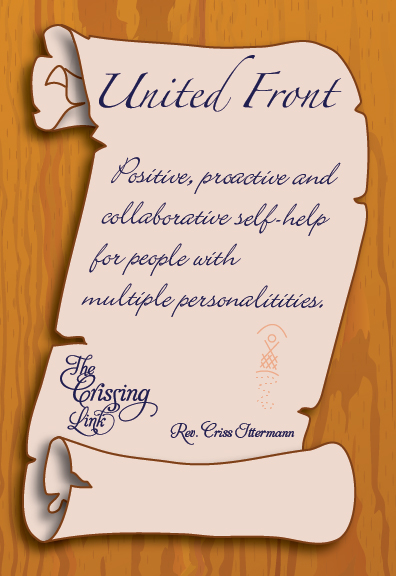 In Progress 2013. 50K words added in 2017. Now in major edits 2018.
Based on the United Front Boot Camp this is an extension and expansion of the method of increasing communication and collaboration amongst your inner people.
Got alters?
People with multiple personalities are just people -- with more people inside. Just like any group, the people inside can have problems: there are communication issues, trust issues, cliquishness, secrets, lies, and a who's who of responsibilities -- and irresponsibility. It's like a college dormatory, except the people living there can be any age and there's often no one in charge.
It can be utter chaos.
But most of that chaos is because there are no good role models. There's no plan of action, or organized method for getting everyone on the same page. There's no leadership.
United Front is a plan for how to lead, set standards, reconcile, communicate, make rules, enforce rules, and come to have similar visions and goals as a group.
There's no pressure to integrate whatsoever.
It's 100% compatible with integration therapy.
It's 100% compatible if you choose to remain multiple.
The first step on every journey in recovery regardless of the disorder is to become more functional. It's not to dig up the skeletons in your closet, or to count the bats in your belfrey. It's to show compassion for your fellows, to respect their rights and honor the rules of the land. This is the epitome of Love Thy Neighbor -- especially the neighbors in your head.
---
Get the ebook while it's being written and revised through LeanPub! United Front is available through LeanPub at a deeply discounted rate WHILE it is being edited. If you purchase the book through LeanPub you will get updates as they come out, including the final version.
Once the ebook is complete, the softcover and ebook versions will be placed on Amazon, and prices on the ebook will go up.
---
At this time 10% of my income from the book will go to charities that prevent child abuse, or directly intervene on behalf of abused children. The first charity will be the Court Appointed Special Assistant program (CASA) in Orange County, NY that acts on behalf of children entering the foster care system in my local area. If the book does well, I will make donations to other organizations and increase the % of my direct proceeds that goes to charity. To increase the amount of your contribution to these causes, order the books directly from me rather than through Amazon.com. A good compromise is to order through CreateSpace, where I get a larger % of the proceeds.